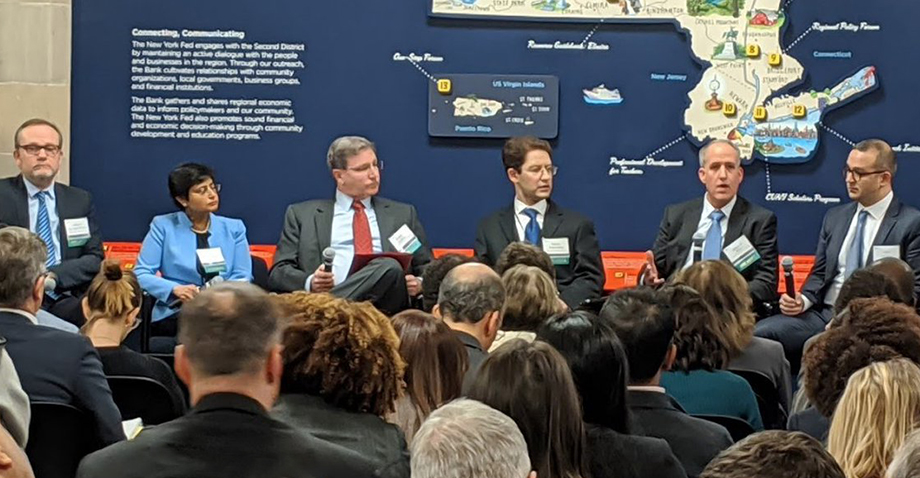 Macroeconomic and financial market developments are determined by the decisions of many millions of individual actors—businesses, households and governments—and these individual decisions are often best analyzed using the theoretical and empirical methods of microeconomics. These analyses emphasize the particular characteristics of agents, institutions, and markets, and a better understanding of this heterogeneity is critical for real-world policymaking and implementation.
The Center for Microeconomic Data (CMD) launched in 2013 to support such inquiry, centralizing the collection and analysis of microeconomic data at the New York Fed while also acting as a catalyst for microeconomic research within the larger academic community. CMD researchers focus on developing and advancing techniques for measuring economic conditions, expectations, and behavior at the consumer level. Core projects include two large data collection efforts: the New York Fed
Consumer Credit Panel
(CCP) and the
Survey of Consumer Expectations (SCE)
. The former provides granular, high-frequency data on household debt and credit conditions in the United States drawing on anonymized credit report data from Equifax; the latter offers a monthly picture of U.S. consumers' perceptions of and expectations for the economy and their own financial circumstances.
This website serves as a central hub for sharing CMD reports, dynamic charts, project news, data for download, and analysis and presentations informed by the underlying data. Since its inception, the CMD has become an important resource for insights on topics including the economic implications of rising student debt. The Center is also a provider of unique statistics, such as those that shed light on inflation, earnings growth, and job search behavior.
Frequently Asked Questions:
Consumer Credit Panel (CCP - Quarterly Report on Household Debt and Credit)

Survey of Consumer Expectations (SCE)
Overview: CMD Surveys and Reports