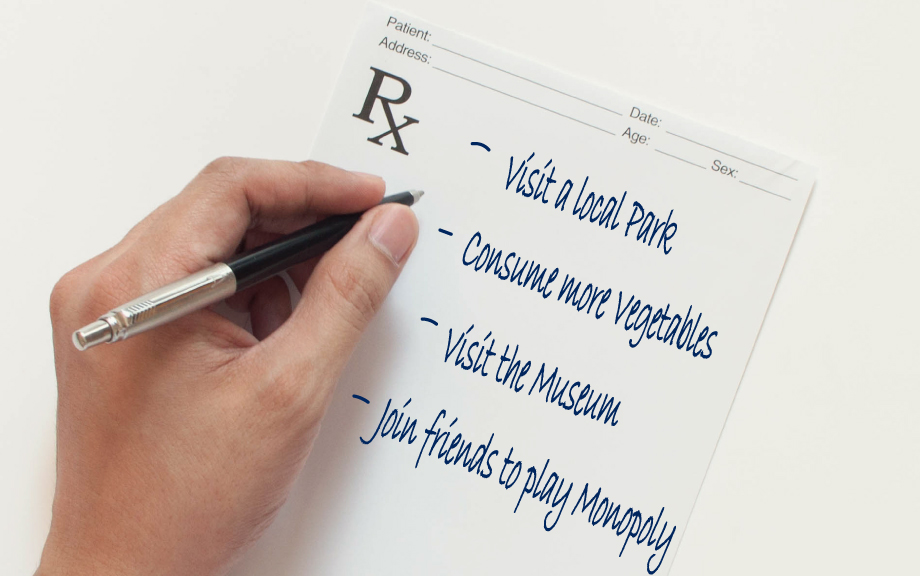 On Wednesday, October 4, 2023, the Federal Reserve Bank of New York, in partnership with Social Prescribing USA, hosted an in-person event discussing how medical prescriptions for patients to participate in community activities such as walking in nature, creating and viewing art, joining social groups, and volunteering can improve public health. This event was targeted to healthcare providers, insurers, community health workers, and foundations.
WATCH THE EVENT
See the agenda for timing of specific conference segments.
Event Details
Date & Time
October 4, 2023
1:30 pm – 4:45 pm EDT

(Networking and coffee preceded the event; reception followed.)
Location
Federal Reserve Bank of New York
Museum and Learning Center
33 Liberty Street
New York, NY
(Registration closed October 1, 2023.)
Audience
This event was open to the public.
Media
This event was open to the media. All remarks were on the record and the event was recorded, with the recording to be made available afterwards. For media inquiries, please contact Ellen Simon at Ellen.Simon@ny.frb.org.
Agenda
Agenda
2:00pm-2:15pm

Welcome and Opening Remarks

(00:00:11 in video)



Tony Davis, Director of Health Equity, Federal Reserve Bank of New York
2:15pm-2:35pm

Overview: What is Social Prescribing—A Global Perspective

(00:03:54 in video)



Dan Morse, Founding Director, Cofounder, Social Prescribing USA

2:35pm-3:25pm

Social Prescribing: Challenges and Opportunities

(00:27:41 in video)



Moderator: Javier Silva, Senior Associate Director, Federal Reserve Bank of New York

Alissa Wassung, Executive Director, Food is Medicine Coalition

Larissa W. Trinder, Assistant Vice President, Arts in Medicine, Office of Quality and Safety, NYC Health + Hospitals

Kate Mulligan, Assistant Professor, Dalla Lana School of Public Health, The University of Toronto
3:25pm-4:25pm

Institutional / Policy Perspective

(01:19:45 in video)



Moderator: Dan Morse, Founding Director, Cofounder, Social Prescribing USA

Tracy Paris-Benjamin, Former Senior Director of Health Equity, Horizon Blue Cross of New Jersey

Diana Johnson, Manager, Food Initiative, The Rockefeller Foundation

Jeffrey A. Sachs, CEO, The Sachs Policy Group
4:25pm-4:30pm

Closing Remarks

(02:12:15 in video)



Julian Macrone, Community Development Specialist, Federal Reserve Bank of New York